Samui – 3 villas 15 bedrooms sea view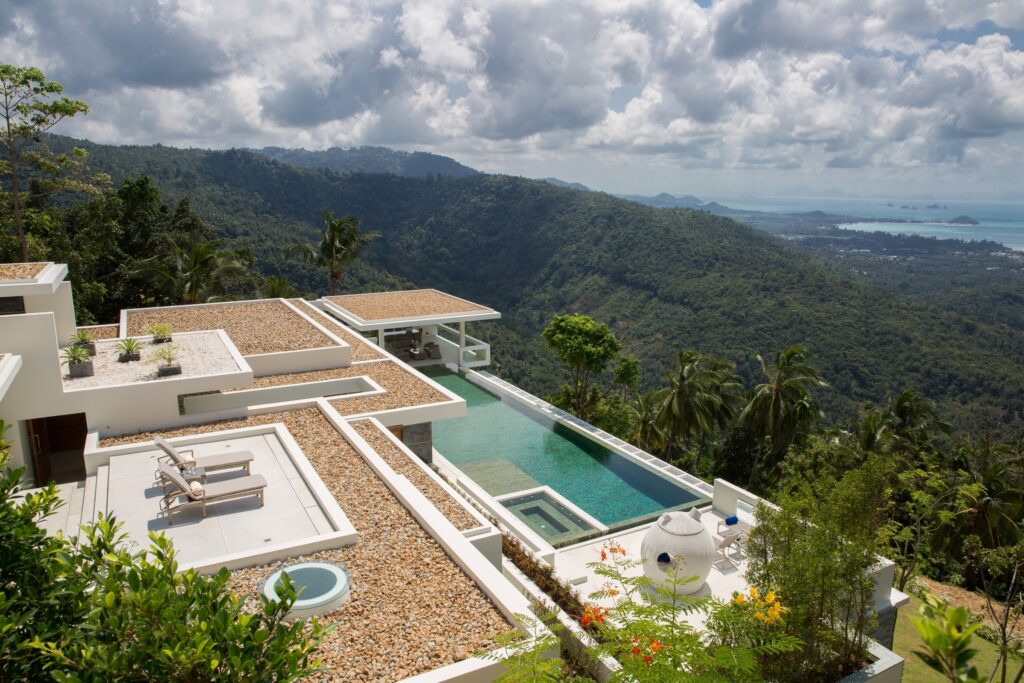 Property Description
INCLUSIONS AT A GLANCE:
English speaking Villa Manager, Maids, Handyman, Driver, Private Chef, Welcome Drink & Snack, Daily Breakfast, 1 x Round Trip Airport Transfers, WiFi throughout the villa.
High in the lush green hills of north-west Samui, 15 minutes from main town of Nathon, and just 45 minutes from the international airport, the three striking, white villas are set in their own private estate.Celebrated international design firm GFAB Architects created the cool, contemporary concept of these villas to maximise on one if the most spectacular views in Samui. From every level, you can see almost the entire length of the island's west coast out to the islands of Ang Thong National Marine Park and the Thai mainland in the distance.The 'Great Room' connects elegant living and dining areas with a fully-fitted western-style show kitchen for breakfast and casual dining. Merging indoor and outdoor living with folding glass doors, this area opens directly onto the pool terrace where shaded day beds and sun loungers capture the cooling coastal breezes and a covered sala is the perfect spot for al fresco dining and poolside barbecues.The Estate consists of fifteen large and airy bedrooms. All rooms look out at the view with king or queen-size beds, indoor outdoor rain shower bathrooms, and in some cases, freestanding bathtubs.Lime Estate offers plenty to keep you and your party entertained, day and night. Games rooms come with a full-size billiard table for snooker and pool, and a plush home cinema invites you and your guests, to sit-back and enjoy hundreds of movies while popcorn and snacks are served.For fitness enthusiasts a gym comes with a variety of machines and an outdoor spa area overlooks the magnificent views. There is also a children's play area with tree house, zip-line and trampoline.Our hospitable Thai staff is there to make your stay as memorable and as relaxing as possible, from preparing outstanding Thai and international meals, creating your favourite cocktails, to booking spa therapists, yoga instructors, and arranging excursions for you and your party.
---
Features list
Other
All rates exclude 10% Service Charge and are subject to 7% VA
Early Bird, Last Minute and Long Stay Discount - All Seasons Early Bird 10% off (120 days prior to C/I) - All Seasons Last Minute 15% for bookings within next 20 days - All Seasons Long Stay 10% for 12 nights and more These discounts apply to certain villas only and are not applicable on the lowest occupancy rate nor can they be used cumulatively.
Rates and Terms 1. Rates are in USD and subject to change with notice 2. Rates are valid for the maximum occupancy of each villa, including children 3. Rates are subject to 10% service charge and 7% VAT 4. Airport transfer inclusion: One for all villas - Two for Villa Skyfall - Two for 5, 6, 7 bedrooms at Ban Haad Sai (not including Villa Claire – additional charge) 5. Complimentary continental Breakfast is included in the daily rate for all villas (not including Villa Claire, Villa Sapparos and Villa Alpha) 6. A full time Thai Chef is included in the daily rate for Ban Haad Sai, Skyfall Villa, Villa Splash, Villa Spice, Villa Zest, Baan Sang 7. Chef service for all other villas is THB 1,500 ++, per meal. Food cost on guest account (cost 600 baht or 20% provisioning fee, whichever is the greater) 8. Baby cots and high chairs are provided free of charge on request 9. Extra bed cost = USD 50 ++, per night per person; non commissionable. Max 2 extra beds per villa, more on request and approval only 10. Minimum 10 nights required for stays that overlaps both Christmas and New Yea
Guest benefits • Fruit basket & welcome drink • Welcome pack (6 bottles of water, bread, butter, jam, milk, tea, coffee, sugar) on arrival Additional Benefits: Honeymoon offer (genuine Honeymooners max 2 pax per villa). One bottle of sparkling wine and room set up honeymoon-style
Weddings 1. Our Villa Collection can host up to 60 guests in buffet style event Venue premium: no premium up to 20 guests for events within the villa; for 21 to 60 pax event fee is USD 1,200 plus 7% VAT - Events premium is due upon balance payment of accommodation - Minimum number of nights at full occupancy rate as per season's schedule is required - Fees are for 24 hours and additional event premium may be applicable for subsequent parties - A refundable damage deposit of US$ 3,500 (THB 100,000) is required to cover any potential damage, payable on site. - A cleaning fee of up to US$350 may be charged on site to the Guests in case the service of a professional cleaning company is required - Venue premium is not commissionable
Payments terms 1. A deposit payment of 30% is required to confirm a reservation in low, mid & high season; 50% for Christmas/New Year period 2. The balance payment for all seasons is due 45 days prior to guests arrival; Christmas/New Year period balance is due 75 days prior to guest arrival 3. All payments are required to be made by bank transfer net of all charges 4. A valid credit card will be required prior to check in to guarantee incidental charges as well as any possible damage that might occur during the stay. 5. If for whatever reason the main guest does not have a valid credit card with the required balance, cash (USD, EUR, GBP) will be accepted.
Cancellation Conditions for Standard Rentals 1. If it becomes necessary to cancel all or any part of the booking, WRMC must be notified in writing (email acceptable). The cancellation will take effect from the day the written is received confirmation 2. The following cancellation charges are applicable depending on when the notification of the cancellation is received in writing and the period of stay 3. The below cancellation charges also apply if WRMC cancels the booking due to non-payment of the balance 4. If the dates of the booking require to be amended, this may be treated as a cancellation of the original booking and cancellation charges may apply 5. Any change to the original reservation is subject to the approval of  ALVC. 6. Early departure penalty will be subject to negotiation with our Manager on Koh Samui.
Low, Medium and High Seasons: 30 days or more before arrival date: All Payments are forfeited but credited for 12 months from the date of the cancellation confirmation by ALVC reservations department. The credit can be used by the client or anyone on their behalf for any future period and solely for the villa initially reserved subject to availability of the villa Within 1 and 29 days before arrival date: All rental payments are forfeited.
Christmas and New Year Period: 75 days or more before arrival date: All Payments are forfeited but credited for 12 months from the date of the cancellation confirmation by ALVC reservations department. The credit can be used by the client or anyone on their behalf for any future period and solely for the villa initially reserved subject to availability of the villa.
Within 1 and 74 days before arrival date: All rental payments will be forfeited.
In line with our Corporate Responsibility, we reserve the sole and exclusive right to request any guest to vacate a property in case :
1- male or female joiners are invited over to the property, as non registered guests 2- any illegal activities with under age individuals are witnessed (guests would be summoned to the local police and authorities) 3- any other illegal or inappropriate behaviour, within the private boundaries of the property (use of drugs, pornographic movies or photographs, sexual trafficking,...) will be reported to the police and use of the Property will be terminated, with no refund
4- no refund would be applicable.
The rates are daily rates and starting from
---
Rates
| PERIOD | BETWEEN | AND | 11 beds | 12 beds | 13 beds | 14 beds | 15 beds |
| --- | --- | --- | --- | --- | --- | --- | --- |
| low season | 25-04-2022 | 02-07-2022 | $ 3,223 | $ 3,389 | $ 3,556 | $ 3,723 | $ 3,889 |
| shoulder season | 03-07-2022 | 31-08-2022 | $ 3,667 | $ 3,834 | $ 4,000 | $ 4,167 | $ 4,334 |
| low season | 01-09-2022 | 30-09-2022 | $ 3,223 | $ 3,389 | $ 3,556 | $ 3,723 | $ 3,889 |
| high season | 01-10-2022 | 07-10-2022 | $ 5,334 | $ 5,334 | $ 5,334 | $ 5,334 | $ 5,334 |
| low season | 08-10-2022 | 20-12-2022 | $ 3,223 | $ 3,389 | $ 3,556 | $ 3,723 | $ 3,889 |
| peak season | 21-12-2022 | 07-01-2023 | $ 7,223 | $ 7,223 | $ 7,223 | $ 7,223 | $ 7,223 |
Availability Calendar
samui-3 villa 15 bedrooms